When I was a kid, I loved keeping the box score on Washington Senators games.  I faithfully did this in the stands at RFK Stadium or at home listening to the game on the radio. I love statistics.
For the past 18 years I have collected key performance metrics (Kpms)  for the real estate market on the Eastern Shore of Maryland, as well as the sub-markets in which I have offices: Talbot, Kent and Cecil Counties. This dataset allows me to keep annual data in context and to maintain rational perspective: to see where we have been and where we are going.
The December 2022 Dashboard above suggests an Eastern Shore real estate market that has hit the "PAUSE" button:
CLOSED SALES were close to the bottom of the 5-yr Average meaning there was very little Pending Activity in October and November.
NEW PENDINGS:  At the very bottom of the 5-yr Average.  BUYERS went on Holiday with the rest of us in December.
ACTIVE LISTINGS; Bumping off the bottom (which was hit in 2021 ) but not enough SUPPLY to sale DEMAND.
MONTHS OF SUPPLY: At the current rate of absorption there was Supply equal to 1.7 Months of Demand. Housing economists suggest that 6 months of Supply is a market in equilibrium with real estate values stable – not appreciating or depreciating.
REAL ESTATE VALUES: The Median SALES PRICE  on the eastern shore at the end of 2022 was $330,000 (roughly consistent with the national average) which is UP 65% from the bottom hit in 2011 (During the Great Recession).
Unlike 2011, there is some light at the end of the tunnel. Real estate values are not predicted to fall thanks to the imbalance between supply and demand.  This is not 2008 all over again. Housing economists forecast that there is still some pain for Buyers and Realtors (not for Sellers) to come in Q1 and Q2 of 2022 but suggest recovery and resumed growth in Q3, Q4 and in 2024:

2023 Forecasts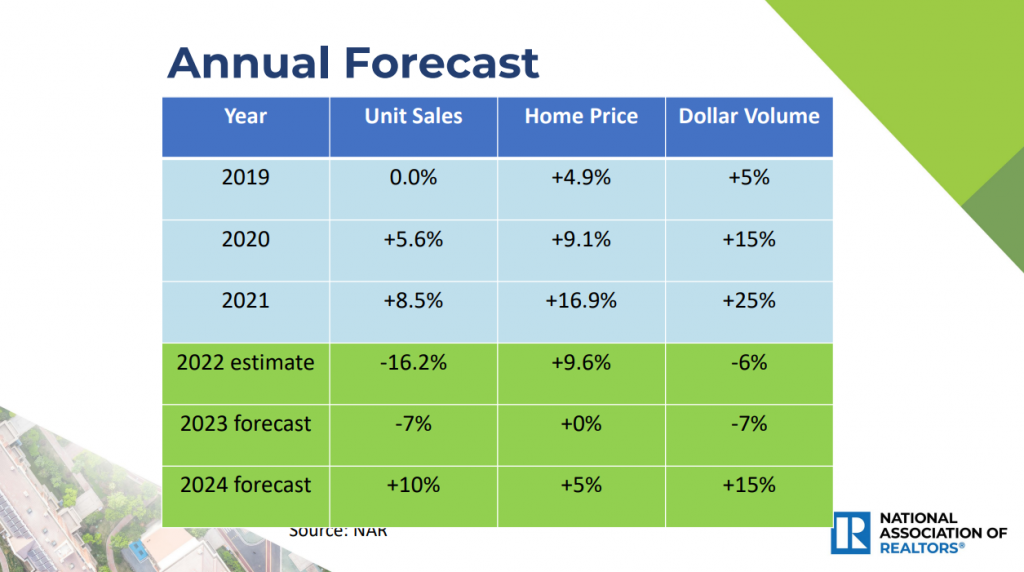 Anecdotally, our sales agents are seeing an uptick in NEW LISTINGS and PENDING transactions in the first two weeks of January. Sharon Fisher and Katie Moore posted a nice List/Sell in Easton. Peter Heller posted a farm List/Sell in Rock Hall. Murphy O'Neil posted a waterfront sale in Oyster Cove in Grasonville. Joe Zang and Brittany Fox have posted several pendings, new listings and closed sales in Cecil and Northern Kent County. This activity creates hope that the recovery is coming sooner than housing economists predict.
So What Happened?
So why did the eastern shore real estate market precipitously pause in Q# and Q4 of 2022? There are TWO clear explanations: interest rates and inventory:
Interest Rates
30-year mortgage rates rose steeply through 2022  (especially from August through December ) from under 3% in January to over 7% in November.  Look at the slope between August and November, That's enough to scare a cat off of a can of tuna fish. But look at the trend from November to the time of this writing. Mortgage Interest rates are falling -back.  They are currently in the 6s and may fall further this year. 7%, BTW, is the Post WWII average for 30-yr mortgage rates. It's the new normal baby, and real estate buyers are becoming accustomed to it.  According to Freddie Mac, the average rate on 30-year fixed mortgage rates have fallen 0.75%  to 6.33  from their peak in mid-November 2022. "With a 6% rate instead of 7% buyers pay about $2,700 less every year on their mortgage., according to Nadia Evangelou, NAR Senior Economist & Director of Forecasting, " As a result owning a home becomes affordable to about 1.4 Million renters and 4.3 Million more homeowners."
Active Inventory
The real story in 2023 is ACTIVE INVENTORY!
Active Listings – County:
2023 ShowingTime.  Data Provided by Bright MLS as of Jan 6, 2023
DEC
DEC
Location
2008
2022
% Change
Cecil, County, MD
878
150
-83%
Talbot County, MD
618
87
-86%
Kent County, MD
367
46
-87%
There Is nothing to sell. Nada. Zilch. Zero.  Not like 2008 when the few Buyers in the market had unlimited choices.  The growing number of Buyers (see above) have very limited choices in January 2023 and this is slowing the pace of the market.
Sellers are becoming accustomed to 6% rates and gaining confidence that if they sell their house, they will find something affordable to buy. This will result in growing inventory and more choice for Buyers in 2023.
I am optimistic. I see the recovery starting sooner here on the Eastern Shore.  2023, a year of lower interest rates, increasing demand, and gradually increasing supply will be a great OPPORTUNITY for BUYERS, SELLERS and REAL ESTATE AGENTS.
Hugh Smith, Broker of Coldwell Banker Chesapeake Real Estate, serving the six counties of Maryland's Upper Eastern Shore including Talbot, Dorchester, Caroline, Queen Anne's, Kent and Cecil. A graduate of American University, he majored in History and Minored in Economics.  First licensed in 1979 in New Mexico, Mr. Smith has been a licensed Maryland Real Estate Broker since 1983. He is also licensed in Delaware and Pennsylvania.  Smith is a former President of the Mid-Shore Board of, Realtors and the Founding and First President of Habitat For Humanity of Talbot County (now HFH Choptank), A lifelong resident of Talbot County, he and his wife Chata live on the waters of Peachblossom Cove between Easton and Oxford.