There are many reasons buyers may be willing to pay extra for a home. For example, they are likely to put down a more aggressive offer for a property that will ultimately reduce their cost of homeownership. Or they may be willing to pay a premium for homes with outstanding curb appeal, which is sure to boost their pride in ownership for years to come. 
With this in mind, it is important to sort through all of the hundreds of potential projects and separate the money pits from the gold mines, with the following 5 high ROI renovations worth considering before selling your home. 
Finished Basement
Traditionally, there has been some debate as to whether or not finishing a basement is a true value-adding project. Opponents argue that while it is undoubtedly nice to transform an unfinished basement from a storage area into a more usable space, the high price tag of finishing a basement–some projects can go well over $100,000–makes it a renovation best left on the back burner.
However, as we move into 2022, the skyrocketing cost of housing has many people looking for ways to offset the cost of their mortgages and reduce their rents. This has led to the increasing trend of homeowners renting out sections of their homes to create a financial win-win for both the owner and renter, with a finished basement being the area of the home most tailor-made for this purpose. 
Priced out of above-ground units, many renters are finding basement living to be an increasingly attractive alternative that can save them around $300 per month. Therefore, if you are able to renovate your basement to include foundational insulation, mold-resistant countertops, waterproof basement flooring, and high-quality acoustic ceiling insulation, there is sure to be a robust market for your property among buyers looking to defray the cost of homeownership through a basement rental, with figures indicating that the project will yield in excess of 70% ROI.
Garage Door Replacement
Sometimes, the simplest projects can actually be the most value-adding. A garage door replacement, which typically takes only half a day, annually tops lists of high ROI renovations, with well-chosen projects approaching a 100% ROI on a relatively modest $4,000 cost. Not only does a new garage door immediately improve curb appeal, but it can make buyers feel secure, as some 30,000 injuries occur each year due to old and degraded garage doors. The combination of aesthetics, functionality and safety make a garage door replacement a project for which the market is willing to pay a premium. 
New Driveway
Like the garage door, the driveway is one of the essential exterior elements of a home that solidifies curb appeal. As a result, it should come as no surprise that a new driveway can return as much as 70% of project costs.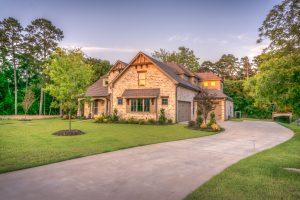 While most homeowners will immediately start looking into concrete and asphalt options, it is worthwhile to consider the advantages of a gravel driveway that utilizes the most innovative driveway drainage ideas for keeping the driveway in good shape as long as possible. Whereas concrete and asphalt driveways are at risk in areas of heavy flooding or freezing/thawing, gravel driveways that use permeable paver grids stay locked in place during all weather conditions, maximizing the benefits of gravel's elite drainage to provide a durable, attractive driveway for years to come.
Deck Addition
A deck addition is another staple of high ROI renovations, with some reports showing that a new deck can yield in excess of 90% ROI. As homeowners continue to mitigate the effects of the pandemic, a deck is the perfect way to add functional exterior space to the home, providing fresh air, scenic views, and a home for all outdoor accessories–features for which buyers are certainly willing to pay extra.
Siding Upgrade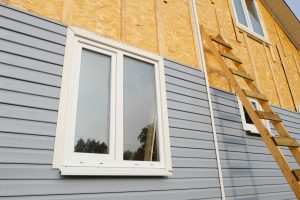 Siding is one of the most fundamental aspects of securing a home's building envelope, providing an initial layer of insulation and protection from the elements. In addition, it also goes a long way toward securing curb appeal, which is why many homeowners are looking into vertical siding options as a means of providing a unique touch to their home's exterior. While most homes feature horizontal planks and panels, vertical siding, such as board and batten, provides some intriguing texture and rustic, farmhouse charm, with the combination of functionality and aesthetics likely to yield an ROI greater than 80%. 
5 High ROI Renovations Before Selling a Home
When it comes to delivering high ROI and increasing a home's resale value, not all renovations are created equal. To help you sort through the multitude, we have identified a finished basement, garage door replacement, new driveway, deck addition, and a board and batten siding upgrade as 5 high ROI renovations to do before selling a home. 
Andrea Erickson is a contributor to Innovative Building Materials. She is a blogger and content writer for the real estate industry. Andrea is focused on helping fellow homeowners, contractors, and architects discover materials and methods of construction that increase property value, maximize energy savings, and turn houses into homes.